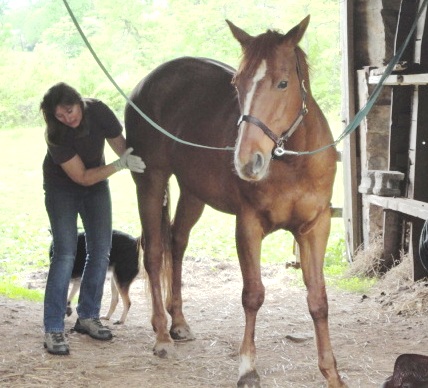 I grew up in Lower Bucks County Pennsylvania riding horses along Neshaminy Creek.  My love for animals started when I was very young, and that love remains in me today.  My passion for horses led me to jobs where I would have the responsibility of taking care of the horses I rode, cleaning the stalls, feeding, watering, and turning them out to pasture, to greater responsibility for the physical, social and emotional health of the horses I cared for at the thoroughbred race tracks.
I never thought in my early years, that I would be able to live the American Dream and start my own business or be an inventor!  But, as life would have it and as the world turns, I am embarking on an exciting experience of inventing a product that helps the pet's l love enjoy the time they spend with their owners while being groomed. 
Your experience with Grooming Hands™ creates a way for you see your pets wiggle with excitement, lean into your hands because they are feeling good, and enjoy the attention they are receiving.
Caring for my own horses and working on the thoroughbred race track, I have seen first-hand how massage can help the horses perform and be happier.  
I believe my product has made a difference for my pets – and I want you and your pet to experience the positive effects of the Grooming Hands™ massage & grooming glove.
I am now in Upper Bucks County, PA working on that American Dream, building my business producing and marketing the Grooming Hands™ for pets, by B Comfee, LLC.
I hope you and your pets enjoy the same experience and pleasure using the Grooming Hands™ Massage & Grooming glove. — Barb Schuster, Founder & Owner, B Comfee, LLC
We are excited to be offered in many local speciality stores and featured as the grooming product of choice for the following:
KT Saddlery
http://www.ktsaddlery.com
Bedminster Canine Kamp
http://www.caninekamp.com
Ivy Hill Therapeutic Equestrian Center
http://www.ivyhillequestrian.org
Tiny Miracles Farm, Petcare, and Rescue
http://www.tinymiraclespetcare.com
Weavers Way Co-op
http://www.weaversway.coop
Dogtown
Dublin IGA