Pet Massage and Grooming Gloves
Grooming Hands™ bring you and your companion closer.  
Whether you have a horse, dog, cat or other furry loved one, your pet will enjoy every moment of grooming with our advanced anti-static properties and proprietary massaging design.  And, you'll enjoy the ease and simplicity of using a glove over brushes.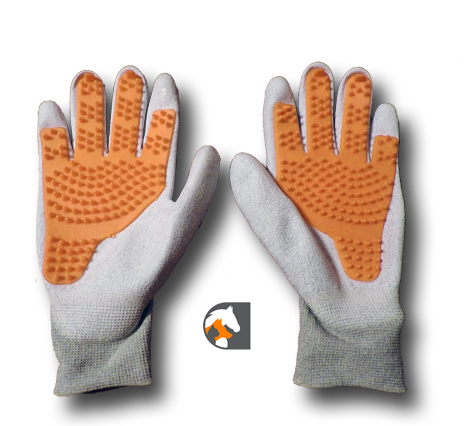 The Science

The Design

Unique thermo plastic with anti-static properties
Carbon filaments throughout glove to reduce static discharge
Tested across hundreds of animals
Latex free

Specifically placed massage points for easy gripping and optimal pressure
Deep massaging tips on middle and ring fingers
Open access for thumb and tips of pointer and pinky fingers for dexterity
Benefits of Grooming Hands™

Use fingers to scrub the body, loosen dirt, dead skin and feel for lumps, scabs or ticks
Ability to use the cloth of the glove to wipe around eyes or nose or face, and legs
Able to pick up and/or hold leash, lead line, or halter
Massage muscles at the same time as brushing
You will never drop your brush again!
Use while bathing or washing your pet
Machine washable and easy to clean
Designed and assembled in the USA
"I have tried everything (wetting brushes, dryer sheets) to keep him from getting shocked but have been unsuccessful in doing so. Until now, that is!" Julie Ennis

"Using these gloves makes it easy to get the dirt off around difficult areas such as legs, hips and faces of the horses." Shannon B

Read more testimonials >>